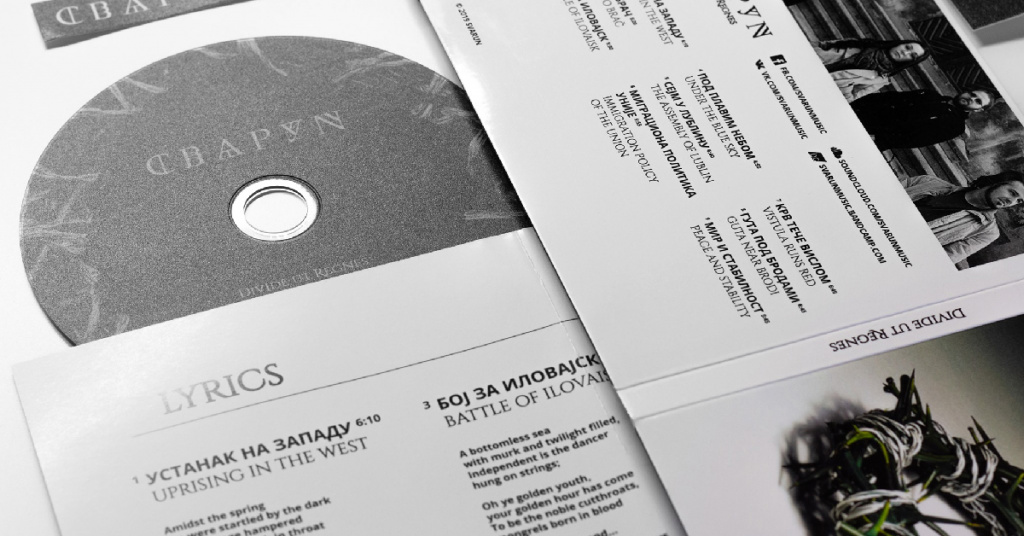 In stark contrast to band's previous releases, the record features drastic change in instrumentation, lyrical themes and musical genres explored, as well as artistic style of the whole package. DIVIDE UT REGNES is a reaction to the state of the world of which we are a part of, as well as our understanding of our own place within it.
VIKTORIYA KARGINA – vocals • NIKOLA DMITRAŠINOVIĆ – guitars • ŽELJKO POPOVIĆ – bass • NIKOLA PACEK-VETNIĆ – drums
Music and lyrics by Nikola Pacek-Vetnić. Recorded between July and October 2018 at Svarun Studios, Novi Sad by Nikola Pacek-Vetnić. Edited, mixed and mastered between October and December 2018 at Svarun Studios, Novi Sad by Nikola Pacek-Vetnić.
We would like to take the opportunity and thank Dimitrije Crvenčanin for aiding us greatly in making this record.
Logo design by Nikola Pacek-Vetnić. Cover art and booklet by KLVB27. Photos by Željko Šarić.
A careful listener will easily find reflections of KYPCK in this record. I personally thank you for being a great inspiration for more than ten years.
This record is dedicated to the fifth man in the studio – You have made this grind like no other will ever be… Here's to a rocky start of an amazing journey!
Visit SVARUN at:
http://svarunmusic.bandcamp.com/
http://facebook.com/SvarunMusic
http://soundcloud.com/svarunmusic
http://vk.com/club17902738